2017 Retail Sale Dates
Coming SOON!
Pricing & Availability
View or download our 2017 Price List here. Please email or call us to inquire about availability as inventory is constantly changing throughout the growing season. Prices and availability are subject to change unless a confirmed order is placed and a 25% deposit is received.
If there is a species which you desire that is not on our list, please contact us as we will try our best to make it available to you.

Commercial/Wholesale Customers please contact us for wholesale price list.
Location & Directions
We are a located in Oshtemo Township in Kalamazoo County. The address of the nursery is 100 N Van Kal St, Kalamazoo, MI, but please do not mail correspondence to this address as it does not have a mail box. Visit the Contact Us page for our mailing address. Please select this link for a detailed map of our location. You can zoom in and zoom out by using the Google Maps link and you can also click on Directions within the map for directions from your location to the nursery. Also, please note that our street is the county line and addresses on the Van Buren county side are five digits, while those on the Kalamazoo side are two or three digits. The nursery is on the east side of the road with a sign next to the entrance. A basic map is also included below.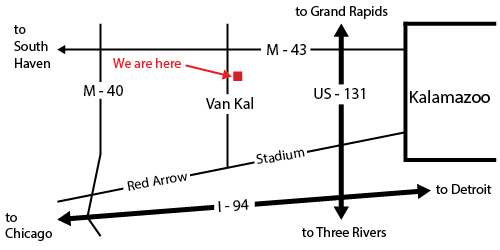 Payment Methods
We accept cash, checks, debit cards, and all major credit cards.

Shipping and Delivery
We currently do not ship plants, but local or regional deliveries can be arranged for an additional fee. Please contact us to inquire about delivery fees.